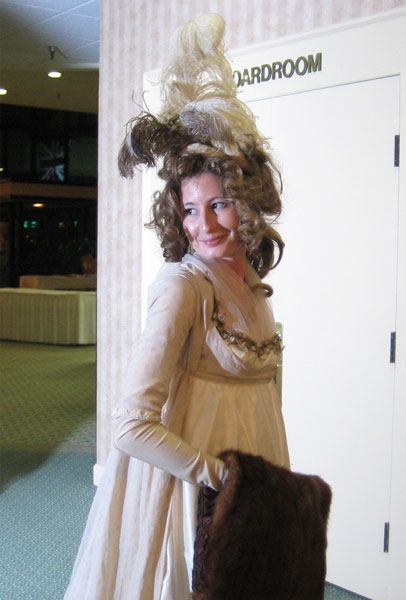 Many thanks to Cloak and Corset and Koshka The Cat for the above photos.
Completed 2005
My lovely friend Addi, who used to be my housemate, opened my mind to Jane Austen while she lived with me and by the time I made my first trip to England, in 2005, I was a full fledged Austen addict. Visiting Bath cemeted my love of the late 18th century and early 19th century when I saw the beautiful buildings and learned even more of the history of the time era in places where history was made. This gown was inspired by my visit to Bath- in particular the Pump Room and caricactures of the period- especially The Long Minuet as Danced at Bath by Henry William Bunbury and prints by Cruikshank and Rowlandson.
This was made using the open robe pattern in Janet Arnold's Patterns of Fashion. It was made of a rayon and gold sueded jaquard and a faux underdress of off white silk shantung. I made them in one piece, but to resemble the look of two gowns worn together, how it would have originally been worn. The trim around the neckline is made of gold bullion and beads and is antique, purchased at an estate of a textile collector.
Although this gown is not in my size any longer it still remains one of my very favorite costumes I have ever made. No other gown has made me feel as elegant and sophisticated, but also suited to my personality. It didn't feel like a costume, and perhaps that's why I loved it so much.